SUFFOLK, VA – A Norfolk Southern raiload accident that occurred Tuesday, February 22, is under investigation by the police and Norfolk Southern.
The Police and Norfolk Southern officials are investigating the accident that involved a train and a car at the crossing on East Washington Street near Pinner Street last Tuesday at around 1:30 p.m.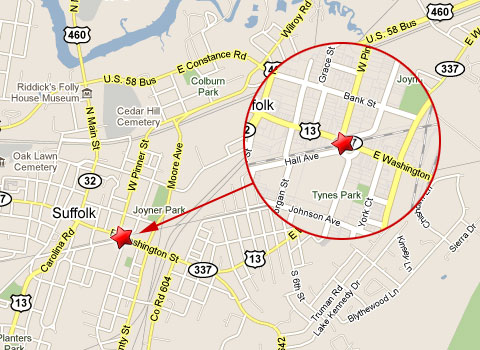 The accident happened Tuesday about 1:30 p.m., Norfolk Southern spokesman Robin Chapman said.
"I'm just shook up," said Veda Mercer, who was driving the car. "I could have been killed."
Suffolk News Herald reports:
Mercer said she was driving eastbound on East Washington Street and was crossing the tracks when the rail crossing gate on the east side of the tracks began to come down.

She said she began to back up, but became trapped by the gate coming down on the west side of the tracks. The westbound train hit her vehicle and caused heavy damage to the right front corner of her four-door car.

Mercer declined an ambulance transport to the hospital.

According to NS spokesman Robin Chapman, Norfolk Southern staff said the vehicle was stopped on the track and tried to back off.

The train included eight loaded freight cars carrying a variety of commodities, as well as 18 empty cars of various types, Chapman said. At that location, trains travel at 40 miles per hour.

The crossing used to be a quiet zone where trains did not blow their horns. However, the quiet zone for that crossing was deleted when Federal Railroad Administration rules changed.

Mercer said she did not remember hearing a train horn during the incident.

Suffolk city spokeswoman Debbie George said the accident still is under investigation by Suffolk police. Chapman said Norfolk Southern will conduct its own investigation into the accident.

Part of East Washington Street was closed while police and Norfolk Southern officials investigated the accident.
---
Published by
FELA lawyer
Gordon, Elias & Seely, LLP