Archive for the 'CSX Railroad' Category
ROSEDALE, Md. — The National Transportation Safety Board (NTSB) released a preliminary report on Wednesday, June 12, in the fiery CSX train derailment that occurred in Rosedale on May 28, when a trash truck and train collided. In their report, the NTSB revealed the crossing where the train collided with a truck gave almost no warning for drivers; the stop signs were barely visible.
ROSEDALE, MD – A CSX train, carrying chemicals, ran into a trash truck in Rosedale, MD  and then derailed and exploded causing a shock wave that sent a huge plume of black smoke into the sky. Rosedale is located in Baltimore County, MD in the northern part of the state about 6 miles northeast of Baltimore.
MONROE, N.C. — A CSX train crash involving 5 vehicles and a semi truck on Tuesday, April 30, shut down Old Charlotte Highway and Rocky River Road in Monroe N.C. for hours.
FAIRFAX, SC — Two pedestrians were killed at a train crossing by a CSX train on Wednesday, April 10, in Fairfax, South carolina, according to Fairfax Police Chief Marvin Williams.
CECIL COUNTY, MD. — A CSX train traveling from Selkirk, N.Y., to Hamlet N.C. carrying sulfuric acid, derailed in Cecil County, Maryland near the city of Elkton just before midnight on Wednesday, Feb.20. Aside from two rail cars full of acid, the train was also carrying cars with boxed merchandise and covered hoppers full of iron ore.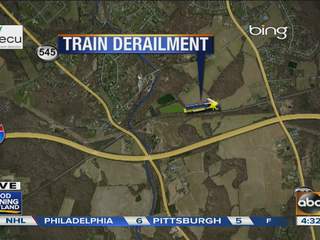 ... Read More
GORE, W.Va. — A railroad worker was struck in the head on Sunday, Feb. 10, by a crane at the site of a CSX train derailment that occurred on Saturday in Gore, West Virginia, where a CSX locomotive and about five freight cars carrying coal derailed because of a rock slide.
BLADENBORO, N.C.– A CSX train traveling from Hamlet to Wilmington on Saturday, Feb. 2, derailed causing one car containing anhydrous ammonia to tip over forcing more than 10 percent of Bladenboro's population, or about 200 residents, to be evacuated from their homes. No injuries were reported at the time of the accident.
INDIANAPOLIS — WishTV.com reported that a CSX train has derailed early Wednesday morning, Jan. 23, on the west side of Indianapolis.
ST. CHARLES, Va. — A tragic accident took place on Sunday, Dec. 9, in St. Charles, Virginia when a CSX rail car carrying coal derailed resulting in the death of a Kentucky man and causing serious injuries to his passenger, also from Kentucky.
SOMERSET COUNTY, Pa. — A 53-foot-long tractor trailer carrying mail was sliced in half by an oncoming CSX train on Monday, Sept 24, at a railroad crossing in Somerset, Pennsylvania due to an impatient trucker who thought he could out run the train.