Archive for the 'BNSF Railroad' Category
LONGVIEW, TX – Two rail tankers, containing hazardous material, jumped the tracks and overturned, causing a spill after a BNSF train derailed in Longview, TX. The city of Longview is located in Gregg County, (and partly in Harrison County) in the eastern part of the state.
WELLINGTON, KS – A BNSF railroad worker was critically injured after getting pinned under the wheels of a rail car in Wellington, KS on July 9, 2013. Wellington is located in Sumner County, KS in the southern part of the state about 35 miles south of Wichita near the northern border of Oklahoma.
PANHANDLE, TX – A BNSF train derailed in Panhandle, TX on June 21, 2013 tipping over 42 rail cars in high winds. Panhandle is
CASTRO COUNTY, Texas -— According to the BNSF spokesman, Joe Faust, strong winds were cited as the cause of more than 40 BNSF Railway cars derailing in Castro County, located in the Texas Panhandle.
ROCKVIEW, MO – A 75-car BNSF train carrying scrap metal was broadsided by a Union Pacific train hauling auto parts at a rail intersection in Rockview, MO on May 25, 2013. The accident injured two railroad workers and several motorists. Rockview is located in Scott County, MO in the southeastern part of the state about 126 miles southeast of St. Louis.
BRIDGEPORT, NE. — Railroad crews worked throughout the day on Monday, April 22, to clean up and repair a 15 car train derailment on the BNSF tracks that occurred Sunday from a southbound coal train. No injuries were reported at the time of the incident.
NORTH ZULCH, Texas — A BNSF freight train traveling southbound derailed and collided with a Sanderson Farms chicken truck carrying live chickens in Madison County Texas between North Zulch and Normange. The driver of the truck was taken to St. Joseph Hospital in Bryan in stable condition.
ROCKVIEW, MO — A Union Pacific train traveling from Chicago to Mexico with three locomotives and 112 cars derailed on Tuesday evening, January, 29, near Rockview Missouri in Scott County.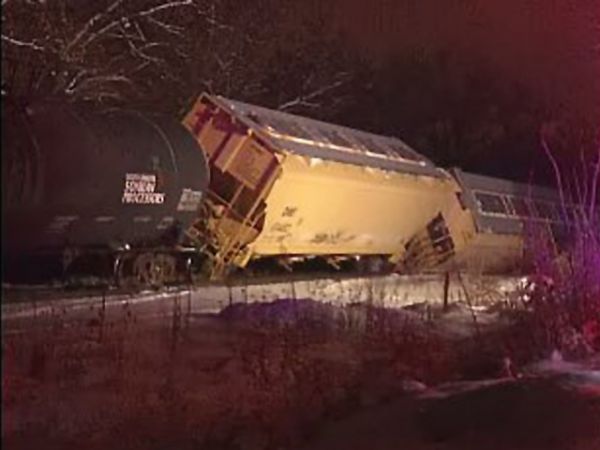 PLUMAS COUNTY, CA. — A BNSF train traveling from Vancouver, Wash. to Barstow, California, struck a boulder early Friday morning, Jan. 25, about 24 miles west of Quincy.
IMPERIAL, MO. — A BNSF train bound for Memphis derailed on Friday, Jan. 11, in Imperial, Missouri prompting authorities to evacuate nineteen homes on Churchill Court as a precaution due to residual chemicals inside two rail cars. Residents were allowed to return to their homes that evening.