Archive for the 'New York Railroad News' Category
HARPURSVILLE, NY — A Canadian Pacific railroad worker was electrocuted on August 26, 2013, while inspecting a rail bridge in Harpursville, NY. The city of Harpursville is located in Broome County in the central part of the state about 121 miles southwest of Albany.
... Read More
BRONX, NY – A trash train derailed in the Bronx, NY on Thursday, July 18, 2013 and tied up commuter rail travel on the Metro-North Hudson line through the weekend. The Bronx is a borough of New York City, NY located north of Manhattan and across the Hudson River from New Jersey.
FONDA, NY – At least one railroad worker was reported injured after two CSX trains collided in Fonda, NY derailing several rail cars and badly damaging one of the trains. Fonda is a village in Montgomery County in central New York state about a mile from the village of Fultonville and about 46 miles northwest of Albany.
WHEATLAND, NY – Several cars of a Rochester & Southern train derailed in Wheatland, NY on June 3, 2013 spilling tons of road salt only a few hundred yards from Oatka Creek. Wheatland is located in Monroe County, NY in the northern central part of the state about 99 miles west of Syracuse. Monroe County borders Lake Ontario on the Canadian border.
LITTLE FALLS, N.Y. — A CSX train traveling from Crestline, Ohio to Albany derailed on Thursday morning, January 10, in Little Falls, New York.
LONG ISLAND, N.Y. — Officials reported that a Long Island railroad worker (LIRR) was fatally electrocuted Monday morning, August 27, after touching the third rail on tracks near the Queens Village train station.
WASHINGTON, DC – On January 12, 2012, the National Transportation Safety Board (NTSB) issued new safety recommendations regarding the restriction of railroad train speeds in the light of five train accidents which occurred over about a 4-month period in 2011, two of which involved fatalities.
NEW YORK CITY – A major fire has engulfed part of the New York City train bridge that is used to protect the bridge from passing boats. Smoke from the fire could be seen as far away as New Jersey.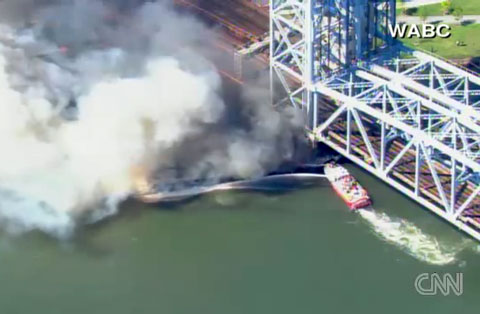 The fire suspended the Metro North Commuter Train service causing major train delays coming in and out of Grand Central Station. According to ABC News, no injuries were reported and the fire department said marine units were "hitting the fire" with water.
... Read More
KINGSTON, NY – A man who was sitting on the tracks was run over and killed by a southbound CSX freight train at about 1:35 a.m. Thursday morning, July 29, 2010. The train operator applied the brakes but could not stop the train in time.
Kingston is in Ulster County, New York in the southeastern part of the state, about 99 miles north of New York City, about 20 miles north of Poughkeepsie, about 56 miles southwest of Albany, about 196 miles southeast of Syracuse, about 263 miles southeast of Rochester and about 329 miles southeast of Buffalo. ... Read More
BRANT, NY – The FBI has doubled its reward from $10,000 to $20,000 for any information leading to the arrest and conviction of an individual or individuals responsible for the attempted derailment of an Amtrak train on July 5, 2010 east of Alleghany Road in Brant, NY.
Brant is in Chautauqua County in the western part of the state near the eastern shore of Lake Erie. Brant is about 28 miles southwest of Buffalo, about 97 miles southwest of Rochester, about 173 miles southwest of Syracuse, about 367 miles northwest of New York and about 5 miles northeast of Irving. ... Read More