Archive for the 'Union Pacific' Category
JEWETT, TX – A Union Pacific train derailed on October 16, in Jewett, TX, blocking U.S. Highway 79 and shutting down traffic. the city of Jewett is located in Leon County, Texas in the eastern central part of the state about 68 miles southeast of Waco.
MATHIS, TX – One Union Pacific Railroad employee was killed and another critically injured while doing maintenance on a rail bridge just north of Mathis, TX on September 4.
After the investigation of a 2010 claim against Union Pacific Railroad, Pamela Lakes, an administrative law judge at the U.S. Department of Labor, has ordered Union Pacific to reinstate a North Platte railroad worker to his apprentice machinist position "as soon as possible" and to pay him $325,000 in damages for illegally firing him.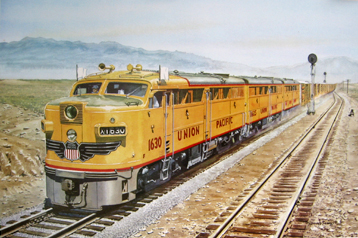 LAWTELL, LA – A Union Pacific train carrying hazardous materials derailed in Lawtell, LA causing hundreds of people to be evacuated from their homes. Lawtell is located in St. Landry Parish, Louisiana in the central part of the state about 69 miles west of Baton Rouge.
ALEDO, TX – The media reported that a railroad worker was injured in a Union Pacific train derailment in Aledo, TX on July 18, 2013. Two locomotives and seven rail cars jumped the tracks while the train was entering the main line off a side track that runs parallel to the main line.
HOUSTON, TX – Residents in the area of Oldham St and Sherman St in East Houston, TX had to be evacuated following a Union Pacific Train Derailment on June 30, 2013.
Houston, TX — A Union Pacific train traveling west in Houston on Monday, June 10, collided with a big rig and knocked it over after the semi tried to cross the tracks.
ROCKVIEW, MO – A 75-car BNSF train carrying scrap metal was broadsided by a Union Pacific train hauling auto parts at a rail intersection in Rockview, MO on May 25, 2013. The accident injured two railroad workers and several motorists. Rockview is located in Scott County, MO in the southeastern part of the state about 126 miles southeast of St. Louis.
TROUP, TX — The Texas Department of Public Safety told the media that emergency crews responded to an accident involving a Union Pacific train and an SUV in Troup on Friday.
... Read More
TEHACHAPI Calif. — A northbound Union Pacific train derailed on Sunday, April 7, near Tehachapi, California. Union Pacific crews worked through Sunday to clear the railroad tracks about a quarter mile east of the cable crossovers near Tehachapi.