Archive for the 'North Carolina Railroad News' Category
OLD FORT, NC – A Norfolk Southern train moving about a mile away from the Pisgah National Forest derailed just before 6:00 a.m. on Thursday, June 17, 2010 spilling 3,000 gallons of diesel fuel. The mishap occurred just west of Old Fort, NC while heading west up the Old Fort Mountain.
Old Fort is in McDowell County, North Carolina in the eastern part of the state, about 24 miles east of Asheville, about 251 miles west of Raleigh, about 172 miles southwest of Greensboro, about 124 miles northwest of Charlotte and about 358 miles northwest of Jacksonville. ... Read More
CLEVELAND, NC – A tractor-trailer collided with a Norfolk Southern train in Cleveland, North Carolina on June 7, 2010. The truck driver was injured but at this time there are no reports if any railroad workers sustained injuries as a result of this incident. The accident occurred in front of Shaver Wood Products in Rowan County at about 10:30 in the morning near Statesville Boulevard (U.S. 70). Shaver Wood Products is located at the Rowan-Iredell county line just off U.S. 70.
Cleveland lies just off U.S. 70 about half-way between Statesville and Salisbury. Cleveland is about 13.6 miles northwest of Salisbury and about 13.3 miles southeast of Statesville. ... Read More
MEBANE, NC – A fiery truck-train collision occurred in Mebane, North Carolina on Thursday, May 13, 2010 when an Amtrak commuter train collided with a semi truck, injuring thirteen and shutting down service between Charlotte and Raleigh for most of the day. The train-truck accident occurred in Alamance County at the 5th Street crossing in Mebane, NC. The accident area is in the north central section of the state, 112 miles northwest of Fayetteville, NC and 42 miles south of Danville, Virginia.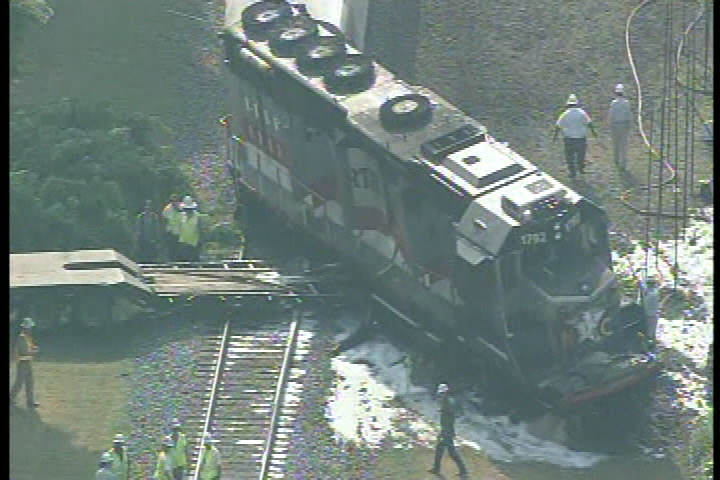 Shortly after 8:00 a.m. Thursday morning Barry C. Lazaro of Wake Forest, NC was driving a semi flatbed trailer truck on 5th Street in downtown Mebane, NC, carrying a backhoe on the flatbed section of the rig. The trailer truck is owned by Lazaro Contracting, Inc., based in Raleigh. ... Read More