TULSA, Okla. – A preliminary federal report released by the National Transportation Safety Board (NTSB) on Monday, July 9, said the two freight trains that collided in the Oklahoma Panhandle on June 24 were not speeding.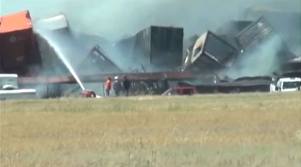 The NTSB found that the eastbound train was traveling at 64 mph and the westbound train wasat 38 mph when they slammed into each other on June 24 near the town of Goodwell. The speed limit in the area is 70 mph.
Houston Chronicle reports:
The agency has said that one of the trains should have turned off the track to allow the other to pass, and it remained unclear Monday why both trains were on the same track. Three of the four people aboard the trains were killed; the fourth jumped from the slower moving train just before the crash and survived.

Even with the preliminary information on the tonnage and speed of the trains, some industry experts said Monday that more details need to be investigated, such as the line of sight between the oncoming trains, condition of the track, the weather and temperature, among other factors.
Terry Williams, a spokesman for the NTSB said, "We're still looking at the signals, the track, the weather. We're looking at the human, machine and the environment."