Archive for the 'Indiana Railroad News' Category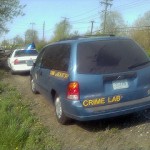 INDIANAPOLIS, IN – On April, 12, 2010, CSX railroad employees discovered an elderly woman's body near the railroad tracks in the 2500 block of Massachusetts Avenue. The railroad workers called police Monday morning after discovering the body of the dead woman.
Crime scene units were called to the area near the intersection of Brookside and Massachusetts Avenues just after 10:00 a.m. Monday. The officers later arrived at the scene where they confirmed that they discovered the body of an older female. The body was located about 10 yards from the railroad tracks. ... Read More
WATERLOO, IN – On Friday evening, March 26, 2010, a train on the way to Michigan derailed in Waterloo, Indiana and spilled 5500 tons of coal. Waterloo is located in the north eastern part of the state about 152 miles north east of Indianapolis and about 25 miles north of Fort Wayne.
Thirty eight Norfolk Southern cars derailed in the mishap. According to a company spokesman, the train was headed from Chicago, IL to Monroe, MI. Although there is no official word on the cause of the accident, the Waterloo town board president said that the cause may have been due to a broken axle on one of the train cars. A spokesperson from Norfolk-Southern could not confirm this, however. ... Read More