PITTSBURGH, PA -  Two trains heading in opposite directions collided on Tuesday, Mar 16, about 4 a.m. near South Braddock Avenue and Main Street, where North Versailles, North Braddock and East Pittsburgh meet, causing a derailment that killed 54 year old Union Railroad freight train engineer, Andrew Monheim, of Plum PA. Authorities are uncertain why the collision happened.
North Versailles police Chief Vincent DiCenzo Jr. told reporters that Monheim died when he was ejected from a northbound train hauling empty rail cars that struck a southbound train transporting iron ore pellets headed for U.S. Steel's Edgar Thomson plant.
Monheim, a 35-year veteran with Union Railroad, was flung from the train and covered by ore pellets that spilled from the open-topped rail cars after the collision, DiCenzo said.
An autopsy showed that the 35 year old railroad engineer veteran killed in a the train accident did not have a medical emergency that contributed to the crash, officials at the Allegheny County Medical Examiner's Office reported.
According to the medical examiner, Monheim died of blunt force trauma and compression after he was ejected from the train engine and buried under tons of spilled iron ore pellets. It did not appear he had any medical condition that may have caused the crash, although toxicology tests are still pending.
"I've been here for 28 years, and I can't recall any railroad accidents like it," he said. "Up in North Braddock, they've had people hit by trains, but never anything like this in North Versailles."
Monheim's wife of nearly 30 years, Lydia Monheim, said he worked his way up through Union Railroad, starting in the roundhouse.
"He just loved that job," she said.
U.S. Steel spokeswoman Erin DiPietro said no other injuries were reported. The other railroad employees were taken to a hospital for drug and alcohol testing, which is standard procedure after such accidents, DiCenzo said.

MAP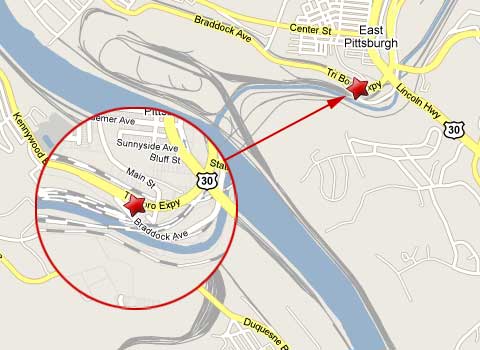 The Department of Environmental Protection responded to the crash because diesel fuel spilled into Turtle Creek.
"It's unclear how much diesel spilled and whether it even reached the creek," said DEP spokeswoman Helen Humphreys, noting the leak appeared to be from a fuel tank on the northbound train's lead engine that was holding about 1,200 gallons. DiCenzo said it appeared most of the spilled fuel was contained to the railbed and spilled ore.
It was unclear what caused the collision. Investigators from the Federal Railroad Administration pulled the "black boxes" and video recorders from the trains and will be working with Allegheny County homicide detectives to determine the cause of the crash, said FRA spokesman Rob Kulat.
"It sounded like a collision, that's all," said Donna Koran, a nearby resident who heard the crash about 3:30 a.m. "But we're used to hearing noises."
Union Railroad is part of Transtar, a subsidiary of U.S. Steel, DiPietro said. FRA data showed the railroad reported 155 incidents or accidents involving injuries since 2000, although Kulat said that included on-the-job injuries such as sprains and strains reported by employees working on trains and in rail yards. The last fatal accident Union Railroad reported was in January 1979.
The tracks where the accident occurred were closed, but plant operations were not affected because alternative tracks can be used, DiPietro said.
Investigators from the Federal Railroad Administration are still trying to determine why the train Monheim was operating ran into the eighth car of a southbound ore train near the Edgar Thomson steel plant, said FRA spokesman Rob Kulat.
Matthew Santoni from PITTSBURGH TRIBUNE-REVIEW contributed to this story.
---
Gordon, Elias & Seely, LLP, is a top nationwide
FELA lawyer
law firm representing railroad workers injured on the job who need experienced lawyers knowledgeable in the Federal Employers' Liability Act (FELA). FELA is not workers compensation and it governs the employee's right to recovery or, unfortunately in this death, FELA governs the rights and remedies of the family members. For more information about FELA and FELA rights, contact
David Lockard,
an experienced
Pennsylvania FELA lawyer
, through Gordon, Elias & Seely, LLP for expert advice. Call toll free 800.773.6770.