December 10th, 2010 |

Author:
FELA Law Staff
PRICHARD, AL – A train owned by Canadian National Railway carrying coal derailed Friday morning, December 10, on Highway 45 between First Avenue and Cayouga Street in Prichard Alabama.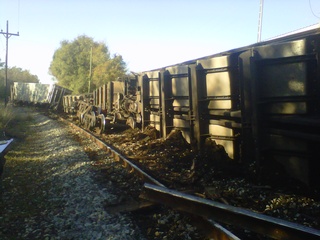 Prichard's spokesperson Latoya Veal told FOX 10 News that about 10 cars derailed and three overturned.
No one was injured and no hazardous materials were reported in the derailment.
Highway 45 is expected to reopen by Noon Friday.
Published by FELA lawyer news blog at Gordon, Elias & Seely, LLP

Posted in
Alabama Railroad news
,
Canadian National Railway
,
Train Derailments
|

Tags:
Railroad Injury Lawyer