JAMESTOWN, ND – Crews in Jamestown, North Dakota were working to clean up coal and metal while trying to get both rail tracks open from a 21-car BNSF coal train derailment that happened Sunday morning, December 12, at about 7:00 am.
Twenty-one  out of 123 cars, derailed spilling more than 1,000 tons of coal wrecking cars on the two mainline tracks through the city.
Amy McBeth, BNSF director of public affairs, said Monday one main track was cleared of wreckage and back in use.
"The crews worked through the night to clear and repair the tracks," she said. "One main track was opened at 8 this morning."
BNSF officials still don't know what caused the derailment. Roads in and out of the yard are still closed. Crews hope to have both tracks open by midnight tonight.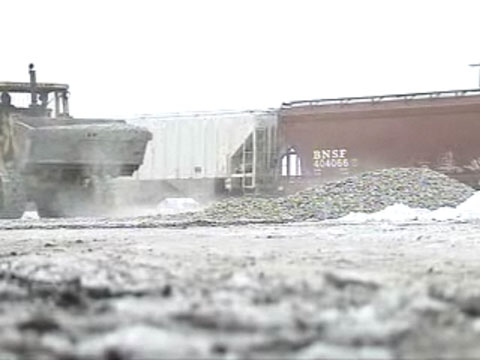 BNSF officials expect cleanup to last for several days. Heaps of coal still line the rail yard today. BNSF officials told WDAY News that low, negative temps have slowed cleanup and repair somewhat, but contractors are expected to work around the clock until the tracks and rail yard are clear.
LT. ROBERT OPPJamestown Police Department: "They have enough of it cleaned up to allow eastbound rail traffic through, however westbound is still closed."
Only 2 of the 21 cars were able to be salvaged and put back on the track. The rest were scrapped.
Homeowners from just yards away from the big spill got quite a surprise: Some had to hear the news from their family. Dozens of homes sit just on the east side of the Jamestown rail yard, within view of where the cars derailed, but some didn't hear a thing! And as luck would have it, the couple's home is the same as what over-turned near their backyard.
The derailment remains under investigation by BNSF. McBeth said BNSF will file a report with the Federal Railroad Administration before the end of January.
"We'll be gathering all the information we can before making a report," she said.
Because there were no injuries, no hazardous material involved or anything dangerous regarding the derailment, the FRA won't conduct its own investigation, McBeth said. At this point, it's BNSF that wants to know what happened.
"BNSF has one of the lowest derailment rates in the industry — two derailments per 1 million train miles," she said. "We try to prevent them from ever happening. That's why we do investigations."
Sources:
WDAY News
The Jamestown Sun
Published by FELA lawyer news blog at Gordon, Elias & Seely, LLP