NORMANDY, IL — A  Union pacific trail carrying grain to Texas derailed shortly after 8 a.m on Friday, May 6, about one mile south of Normandy in northwestern Bureau County spilling corn into an adjacent field.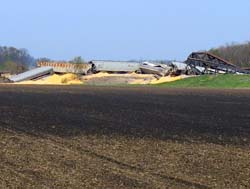 Early reports from Bureau County Sheriff's Department indicated seven cars had derailed, but Union Pacific Northern Region media director Mark Davis later confirmed 31 cars had derailed.
NewsTribune.com reports:
The 100-car train had stopped in Sterling and was en route to Texas, Davis said. There were no injuries, but some infrastructure was damaged.

"About 700 feet of track was damaged as a result of the derailment, and we had some bridge damage," Davis said.

Early Friday afternoon, Davis said cleanup had started.

"The heavy equipment is on the scene to begin moving the cars away from the track area or placing them back on the track," he said.

"There are about six trains a day that use that line. We're able to move them other ways."
The cause of the derailment remains under investigation.
Related search:
FELA lawyer answers frequently asked questions