Posts Tagged 'Union Pacific Train Derailment'
DE SOTO, MO — A Union Pacific train derailment occurred on Tuesday, April 24, damaging about 200 feet of track. Union Pacific workers arrived on the scene to survey the damage.
ARLINGTON TX – A Union Pacific train derailment in downtown Arlington TX caused some concern to fire officials and local businesses who had to be evacuated when it was discovered that the train contained hazardous materials.
MARATHON, TX – A Union Pacific train derailed on Monday, November 22 in Brewster County, TX between the towns of Marathon and Sanderson and backed up rail traffic for hours.
TOPEKA, KS – Thirty-two rail cars jumped the tracks in a massive Union Pacific train derailment in Topeka, KS on Monday, November 14, 2011.
SACRAMENTO, CA – On Sunday, November 13, 2011 a Union Pacific Train derailed in Sacramento, CA.
COLTON, CA – Six rail cars of a Union Pacific train jumped the tracks and tipped over in Colton, CA on Tuesday, October 18, 2011 and then struck another BNSF train running alongside it on parallel tracks.
ARLINGTON, TX – One Union Pacific train crashed into the rear of another Union Pacific train that was stopped on the tracks in Arlington, TX on Saturday, Oct. 1, 2011.
NORMANDY, IL — A  Union pacific trail carrying grain to Texas derailed shortly after 8 a.m on Friday, May 6, about one mile south of Normandy in northwestern Bureau County spilling corn into an adjacent field.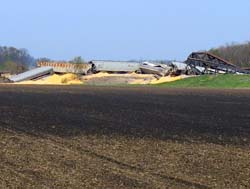 Early reports from Bureau County Sheriff's Department indicated seven cars had derailed, but Union Pacific Northern Region media director Mark Davis later confirmed 31 cars had derailed. ... Read More
CORSICANA, TX – A Union Pacific freight train derailed in Corsicana, TX on Tuesday, April 26, 2011. Corsicana is in Navarro County Texas in the eastern part of the state about 189 miles northwest of Houston and about 57 miles southeast of Dallas.
Six cars jumped the tracks in the mishap, which occurred about 12:18 p.m. in a section of track near W 12th Ave. between S 12th St. and S 14th St. near the Oil City Iron Works.
... Read More
SALT LAKE CITY, UT – A Union Pacific freight train derailed in Salt Lake City, UT on Wednesday, March 16, 2011 about 5:45 a.m. in the morning.
Salt Lake City is in Salt Lake County, Utah in the northern part of the state, about 36 miles south of Ogden. ... Read More