MATHIS, TX – One Union Pacific Railroad employee was killed and another critically injured while doing maintenance on a rail bridge just north of Mathis, TX on September 4.
WASHINGTON, DC – A Metro Red Line train derailed in Washington, DC just after midnight on August 30, causing delays for passengers. The Metro Red Line is operated by the Washington Metropolitan Transit Authority, the agency for Metrorail, located in DC.
RUSHVILLE, IN – A pickup truck collided with a CSX train, seriously injuring two motorists in Rushville, IN on August 16, 2013. Rushville is located in Rush County in the east-central part of the state about 45 miles southeast of Indianapolis.
HARPURSVILLE, NY — A Canadian Pacific railroad worker was electrocuted on August 26, 2013, while inspecting a rail bridge in Harpursville, NY. The city of Harpursville is located in Broome County in the central part of the state about 121 miles southwest of Albany.
... Read More
CAMBRIDGE, IA – A tractor was struck by a train while crossing the tracks in Cambridge, IA on August, 20, 2013. Cambridge is located in Story County, Iowa in the central part of the state about 25 miles northeast of Des Moines.
HEADINGLEY, CN. — Two Canadian Pacific railroad workers were injured and taken to a local hospital after the CP tracks they were working on were struck by lightning. The city of Headingley is located about 13 miles west of Winnepeg.
... Read More
HOUSTON, TX. — Myrta Fariza, a Clear Lake woman who died from injuries in last month's horrific train derailment in Spain, was laid to rest and remembered with a funeral mass on Weds., August 14, at Saint Paul the Apostle Catholic Church in Nassau Bay.
After the investigation of a 2010 claim against Union Pacific Railroad, Pamela Lakes, an administrative law judge at the U.S. Department of Labor, has ordered Union Pacific to reinstate a North Platte railroad worker to his apprentice machinist position "as soon as possible" and to pay him $325,000 in damages for illegally firing him.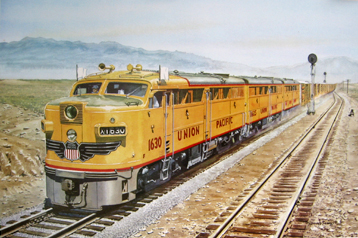 WELLINGTON, KS — The town of Wellington, Kansas, has rallied around Kevin Beggs, 45, a well-known resident of Wellington. Beggs, a BNSF railroad employee, was injured over a month ago on July 9, 2013, when he was pinned under the wheels of a rail car with critical injuries to his lower legs. It took 45 minutes to extricate him from under the rail car.
FAYETTEVILLE, NC – A CSX train derailed in Fayetteville, NC on July 31 causing 4 rail cars of a 10-car train to jump the tracks. None of the derailed cars overturned. Fayetteville is located in Cumberland County, North Carolina in the south-central part of the state about 65 miles southwest of Raleigh and about 89 miles northwest of Wilmington, NC.