Archive for the 'Iowa Railroad News' Category
CEDAR RAPIDS, IA – On Tuesday, November 30, 2010 an Iowa Northern Railway derailed in downtown Cedar Rapids, IA spilling a load of corn on the roadway and tying up traffic.
Cedar Rapids is located in Linn County, Iowa in the east-central part of the state, about 128 miles northeast of Des Moines. ... Read More
WEVER, IA – The derailment happened a little after 8:00 p.m. Wednesday evening on April 7. According to eyewitnesses, several cars went off the tracks north of Wever, Iowa near the Skunk River.
The cause of the accident was said to be due to a mudslide in that area that happened Wednesday evening.
According to BNSF officials, three empty coal cars derailed between Kemper and Burlington. The train was completely empty at the time the cars overturned and there were no injuries reported. BNSF crews arrived at the scene. ... Read More
ROCK ISLAND COUNTY, IL – Andrew Schulte, a former Iowa Interstate Railroad train employee, was awarded $33 million in damages by a Rock Island County jury last Thursday for a tragic accident that occurred in a Rock Island rail yard in April 2007.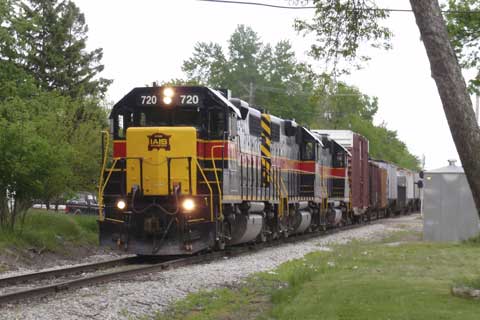 According to the lawsuit, Schulte was trying to pull a pin on a rail car while walking alongside a train on a switching lead. The lawsuit states that the pin lifter stuck, causing Schulte to trip and fall, at which point he was struck and run over by a rail car.