Posts Tagged 'BNSF Train Derailment'
PASCO, WA – According to news reports, a Burlington Northern Santa Fe Railroad carrying about 25,000 gallons chemicals, derailed on Sunday, May 15, at around 5:00 p.m. near Pasco, Washington.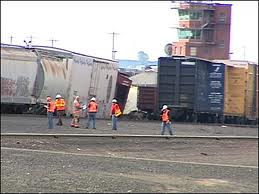 BNSF Spokesman Gus Melonas told the media that several freight cars derailed while moving less than 5 mph during a switching operation. Seven cars derailed from the tracks, causing nearly 12,500 gallons of hydrochloric acid onto the ground by 9:30 p.m. No injuries were reported at the time of the incident. ... Read More
HOUSTON, TX – A Burlington Northern Santa Fe (BNSF) train derailed near downtown Houston on Tuesday, April 26, 2011.
Houston is located in Harris County, Texas in the southern part of the state, about 51 miles northwest of Galveston and about 163 miles southeast of Austin. ... Read More
MCPHERSON, IA – Two BNSF railroad workers were killed in a train crash in McPherson, IA when one train rear-ended another on Sunday, April 17, 2011.
McPherson is located in Montgomery County, Iowa in the southwestern part of the state about 124 miles southwest of Des Moines. ... Read More
ENID, OK – On Tuesday, April 5, 2011 a BNSF freight train derailed in Enid, OK, toppling rail cars and spilling their contents.
Enid is located in Garfield County, Oklahoma in the northern part of the state about 86 miles northwest of Oklahoma City. ... Read More
BISMARCK, ND – On Friday, March 18, 2011 a BNSF train derailed in east Bismarck, ND, causing 14 rail cars loaded with coal to leave the tracks.
Bismarck is in Burleigh County, North Dakota in the central part of the state about 6 miles southeast of Mandan. ... Read More
ESSEX, MT – A BNSF train derailed about 4 miles west of Essex, MT in a mountainous area amidst cold weather and snow shortly before noon on Wednesday, March 9, 2011.
Essex is in Flathead County, Montana in the northwestern part of the state near Glacier National Park and about 170 miles northwest of Great Falls. ... Read More
THEDFORD, NE – Two BNSF trains crashed in Thedford, Nebraska on Thursday, March 10, 2011 causing 72 rail cars to derail.
Thedford is in Thomas County, NE in the north-central part of the state, about 157 miles northwest of Grand Island. ... Read More
UNIVERSITY PLACE, WA. – A BNSF train derailed around 8:00 pm Saturday night, February 26, near Chambers Bay golf course in University Place, Washington. The accident sent four tankers filled with sodium hydroxide onto the beach, spilling about 50 gallons of lye.
A northbound freight train with two locomotives and 109 cars was on the tracks when it derailed. All but 11 cars, including six tanker cars, were empty. Train crews from from Tacoma, Olympia, Seattle, Pasco and Salem, Ore were on the scene of the accident within 30 minutes to contain the spill. ... Read More
JAMESTOWN, ND – Crews in Jamestown, North Dakota were working to clean up coal and metal while trying to get both rail tracks open from a 21-car BNSF coal train derailment that happened Sunday morning, December 12, at about 7:00 am.
Twenty-one  out of 123 cars, derailed spilling more than 1,000 tons of coal wrecking cars on the two mainline tracks through the city. ... Read More
HAMILTON, MS. – A 110 car freight train traveling through Hamilton, Mississippi derailed Monday morning October 25th, according to authorities. Three of the cars were carrying hydrogen peroxide which forced the evacuation of some nearby residents. Hazardous material teams from Columbus AFB and Columbus were called to the scene.
WTVA.com reports that the incident happened shortly before 9 a.m. at the railroad crossing near Hollivay Road. ... Read More