Archive for the 'Missouri Railroad News' Category
SWEDEBORG, MO — On April 6, 2010, a Burlington Northern Santa Fe train derailed around 9:30 a.m. Tuesday morning, forcing the evacuation of Pulaski County elementary school children. The train derailment occurred in Swedeborg near the intersection of Highway T and Missouri Route 133.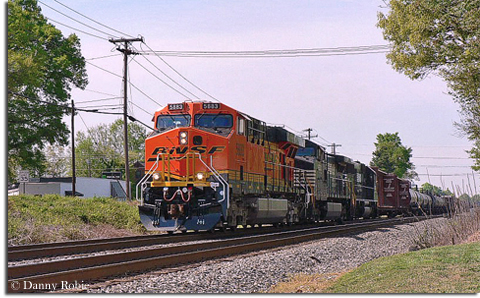 Troop I of the Missouri Highway Patrol reported that 15 cars were off the tracks and that 8 of those were on their sides. ... Read More
ALEXANDRIA, MO – Freight cars from the Burlington Northern Santa Fe Railway BNSF derailed in Alexandria, Missouri on Saturday, March 27, 2010 at about 2:30 pm. The railway cars were carrying coal from Wyoming and were heading to the St. Louis area. The derailment involved 22 out of the 135 cars on the train that included 3 engines. Fourteen railway cars were mangled in the derailment.
According to Steve Forsberg, a spokesman from the BNSF Railway, the cause of the derailment has not been determined. Forsberg is the general director of public affairs for BNSF. ... Read More