Posts Tagged 'BNSF Train Derailment'
BROWNWOOD, TX – Traffic was stopped on Sunday, October 24 in Brownwood, Texas after a train derailed at the railroad crossing at Main and 4th Streets.
Brownwood is in Brown County, Texas in the central part of the state about 186 miles northwest of San Antonio. ... Read More
SUGAR CREEK, MO – It was around 1:00 am Saturday morning, July 3, when a witness reported a train derailment in Sugar Creek, Missouri. Seventeen cars derailed and six cars overturned. One car that carried a chemical called Toluene was ignited which caused the rail car to explode.
"The tank was filled with animal fat," said Police Chief, Herb Soule. ... Read More
THERMOPOLIS, WY – According to railroad officials, a Burlington Northern Santa Fe Railway (BNSF) train derailed on May 12, 2010 around 12:30 p.m. The derailment occurred along a 50-foot embankment alongside the Wind River about five miles south of Thermopolis at the north end of the Wind River Canyon.
According to BNSF spokesman, Gus Melonas, the train originated in Laurel, MT. It was destined for Denver, CO when the derailment occurred. ... Read More
SWEDEBORG, MO — On April 6, 2010, a Burlington Northern Santa Fe train derailed around 9:30 a.m. Tuesday morning, forcing the evacuation of Pulaski County elementary school children. The train derailment occurred in Swedeborg near the intersection of Highway T and Missouri Route 133.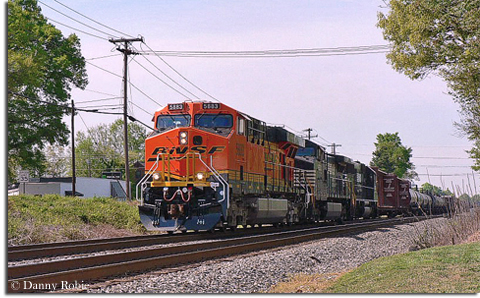 Troop I of the Missouri Highway Patrol reported that 15 cars were off the tracks and that 8 of those were on their sides. ... Read More